ToyotaCare No Cost Maintenance Plan

ToyotaCare Benefits Offer Exceptional Service for New Cars--For Free
What is ToyotaCare, and Why Do I Need It?
Plain and simple, ToyotaCare is a no-cost vehicle auto maintenance plan that covers routine services like oil changes, tire rotations, fluid level adjustments, and multi-point inspections--when recommended by the manufacturer--for two years (or 25,000 miles, whichever comes first) at absolutely no cost to you. Really! Think about free standard services for your Toyota car, truck, or SUV for up to 48 months.
ToyotaCare covers Maintenance Guide services for 5,000 miles, 10,000 miles, 15,000 miles, 20,000 miles, and 25,000 miles. These include an engine oil and filter change, tire rotations, multi-point inspection, and an inspection and adjustment of fluid levels--all for free. For most drivers, this means coverage for about full two years. Also during that two-year period, you'll receive free 24/7 roadside assistance regardless of vehicle mileage. Call the toll-free number for help with jumpstarting your battery, re-filling fuel in an emergency, locked doors, changing a tire, winching from a ditch or hill, and towing to the nearest chosen Toyota dealership.
Why do you need ToyotaCare? Well, this isn't a necessary program, and you could absolutely buy a car without it... But why would you? It doesn't affect purchase price or your monthly payments, and you get all the benefits of expert Toyota service and repair in El Paso with none of the cost! It's a win-win for new-car buyers.
Which Vehicles are Eligible for Free ToyotaCare?
Because Toyota believes in the integrity and long-term care of their vehicles, they've extended the ToyotaCare maintenance plan to every new Toyota model, whether you lease or buy. That means you can get a Toyota Tacoma or Tundra truck, a RAV4 crossover, a 4Runner or Highlander SUV, a Corolla or Camry sedan, or a Sequoia or Sienna family vehicle brand-new, and enjoy total peace of mind and convenience for 2 years or 25,000 miles.
Contact dealer for more details.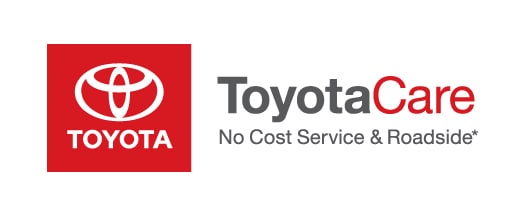 Hours
Monday

7:00am - 6:00pm

Tuesday

7:00am - 6:00pm

Wednesday

7:00am - 6:00pm

Thursday

7:00am - 6:00pm

Friday

7:00am - 6:00pm

Saturday

7:30am - 5:00pm

Sunday

Closed