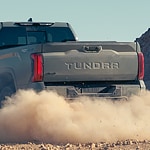 The 2022 Toyota Tundra features a twin-turbo V6 and a hybrid version of the same engine. Both powertrains are linked to a 10-speed automatic gearbox. The basic model comes equipped with a 3.5-liter twin-turbo V6 engine, which generates 389 hp and 479 lb-ft of torque. The previous 5.7L V8 only managed 381 HP and 401 lb-ft of torque.
The V6 hybrid is a significant improvement. The new i-FORCE MAX hybrid powertrain has a twin-turbo V6 electric motor that generates 437 hp and 583 lb-ft of torque. This revolutionary hybrid engine produces significantly more power and uses less gasoline. The maximum towing capability of a properly outfitted 2022 Tundra will be 12 thousand pounds.
To complement its updated powertrain, the 2022 Tundra gains improved towing capabilities. To begin with, the 2022 Tundra has two new driving modes: Tow/Haul and Tow/Haul+. The first option is suitable for less weighty cargo and shorter trailers, while the second caters specifically to the transportation of bulky items like boats and recreational vehicles.