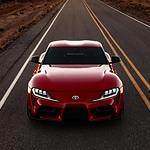 The exterior of the GR Supra is sleek and smooth, with a prominent front grille that's reminiscent of the old Supra. It features an aggressive look that's sure to turn heads. The car has a low center of gravity, so you can take corners at high speeds without worrying about tipping over.
The rear end of the car is dominated by the large spoiler that helps keep it stable during high-speed driving. The rear diffuser also helps with stability and provides a visual contrast to the rest of the car's smooth shape. The Supra is equipped with 19-inch forged alloy wheels or 18-inch cast-aluminum alloy wheels. Both feature a 10-spoke design. It also features dynamic rear LED taillights, which are inspired by historical Toyota vehicles that have long been associated with performance and style.
Its aerodynamic body has been designed to be more than just beautiful, it helps the Supra slice through the air with minimal drag and maximum efficiency.